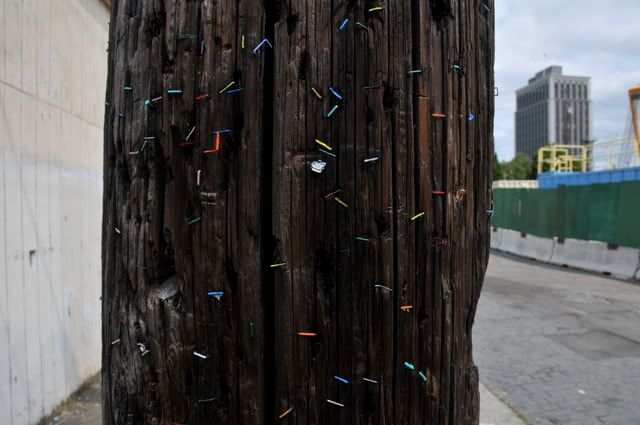 photo credit
The One True b!X
The Painted Staples Project is a citywide project created by Steve Beatty.
Steve chooses random telephone poles that have been used by the community to post flyers, posters, messages, and signs.
In coordination with the Office of Inclusion, he hand paints the strata of staples left behind form a history of community posts.
The first of this series is located on the N.E. corner of Southeast 3rd and Alder.
Coming Soon: Look for more painted staples on the N.E. corner of Southeast Belmont and Peacock Lane across the street from Walgreen's, and on S.W. 10th and Belmont.
The project will continue throughout the remainder of 2008 so if there is a telephone pole near you on which you would like Steve and the Office of Inclusion to paint the staples, please send us the location, and we will try to get to it.
Also, if you like this idea, please feel free to paint some staples yourself and submit photos to Steven Beatty at stvn_beatty@hotmail.com, and he will post them on a blogsite.
photo credit Mark Jondahl
Steve's hand
photo credit Mark Jondahl
Friends assisting the artist in the Painted Staple Project